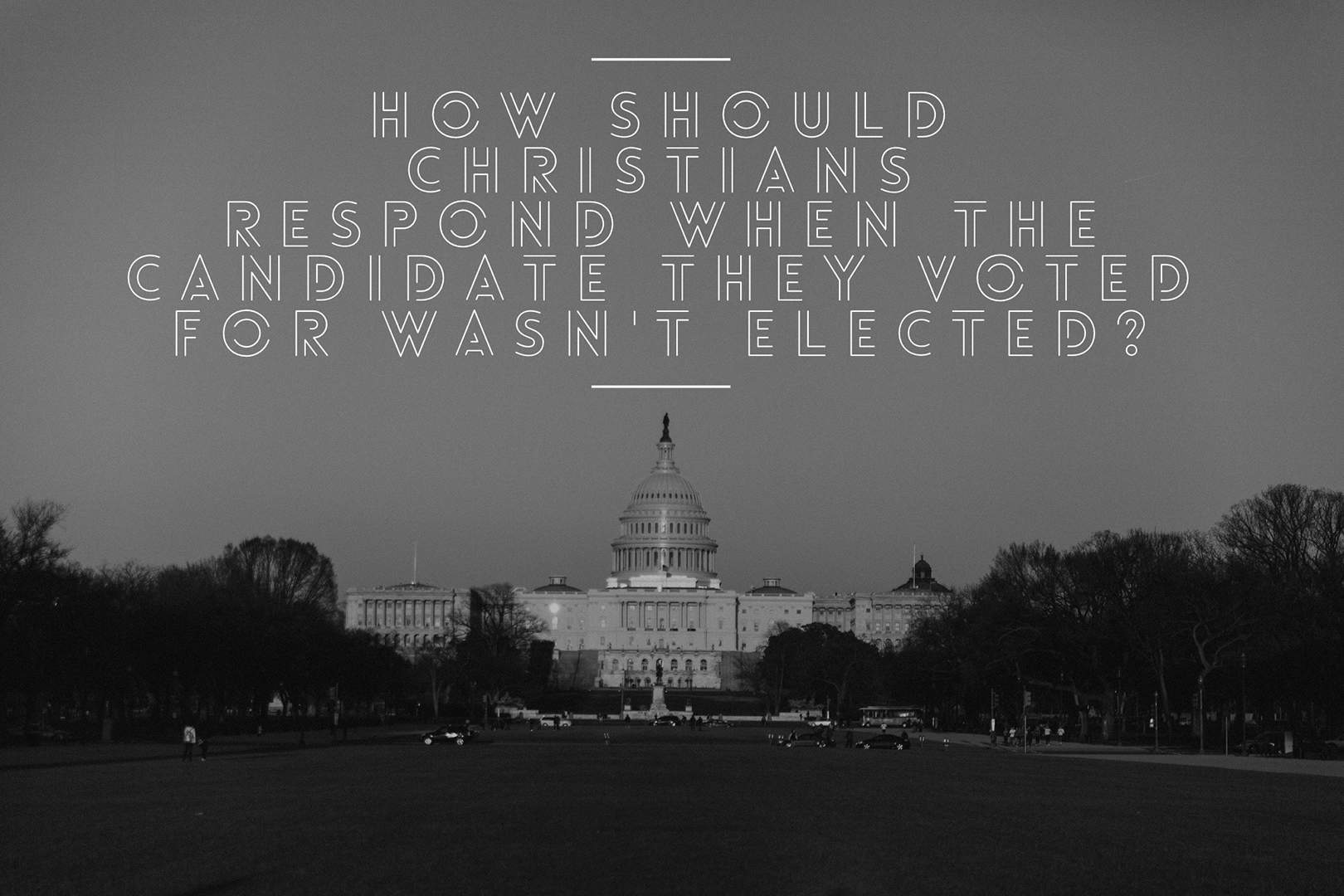 How Should Christians Respond When The Candidate They Voted For Wasn't Elected?
In a fallen world, we face imperfect choices. The 2016 Presidential election saw the winning candidate approved and disavowed by nearly equal margins.  As Christians, how should we respond?  Paul's magnum opus, Romans, gives us a clear prescription in its 13th chapter: we must be subject to the governing authorities because God has instituted them (Rom. 13:1).  As peculiar as the 2016 election was, Paul wrote the book of Romans during a time of incomparable peril.
The Apostles' Example
According to tradition, all of the apostles, except John, were brutally murdered. The Roman state beheaded Paul, and Peter was crucified head downward.  Yet Peter also echoes Paul's words regarding governance: "Be subject for the Lord's sake to every human institution… for this is the will of God" (1 Pet. 2:13,16).  And they themselves were only following Christ's example, who subjected Himself to the actions of godless authorities knowing that all had "taken place that the Scriptures of the prophets might be fulfilled" (Mt. 26:56).
But what of unjust laws, wayward court rulings, illegitimate imprisonments, and other social evils?  Shouldn't they be opposed?  Again, Biblical examples inform our choices.  When Peter and John were chastised by the court for preaching the resurrection, they publicly testified: "Whether it is right in the sight of God to listen to you rather than to God, you must judge, for we cannot but speak of what we have seen and heard" (Acts 4:19,20).  Yet notice that Peter and John went to court, pled their case, and suffered joyfully under the ruling authorities (Acts 5:41).  This wasn't about them; It was about God and the glory of His name.  For Christians, our lives (and that includes this election) must be lived for and to the glory of God.
Jesus Remains on His Throne
The outcome of this election may have been a surprise to you, but it was not a surprise to our Creator.  And we know that He superintends every aspect of His creation so that not even a sparrow may fall to the ground without His approval (Mt. 10:29, 30). Christ submitted to governing authority for this reason; likewise the apostles, and so too must we.  This does not mean that we may not be called to protest or to suffer or to be imprisoned or to give our lives, but in all things we are called to act charitably and to glorify His holy name.
God has chosen your parents, the timing of your birth, and in what nation you will reside (Acts 17:26).  He, Himself, has set you under authority to your boss, to your parents; and yes, to your government. This is the way He has chosen to administrate the affairs of mankind according to His good pleasure, and it pleases Him when you obey, when you oppose evil, and even when you suffer well under wrongdoing.  He guarantees that one day you will live under godly rule (Rev. 22:3,5), but He does not guarantee it now (Jn. 16:33).  Now, He commands that your light shines in darkness (Mt. 5:15), that you trust Him cheerfully in tribulation, and that you take comfort in His trustworthiness (Job 13:15). For in His excellent timing, "The God of peace will soon crush Satan under your feet" (Rom. 16:20).  Our privilege and joy is that God has chosen us to further His perfect plan.
Did your candidate win this election? Yes? Then do what you can to assure he acts in a godly way.  Did your candidate lose this election? Yes? Then do what you can to promote godliness now, and also in the next election.  Whether your candidate won or lost, "Let us not grow weary of doing good, for in due season we will reap, if we do not give up." (Gal. 6:9).