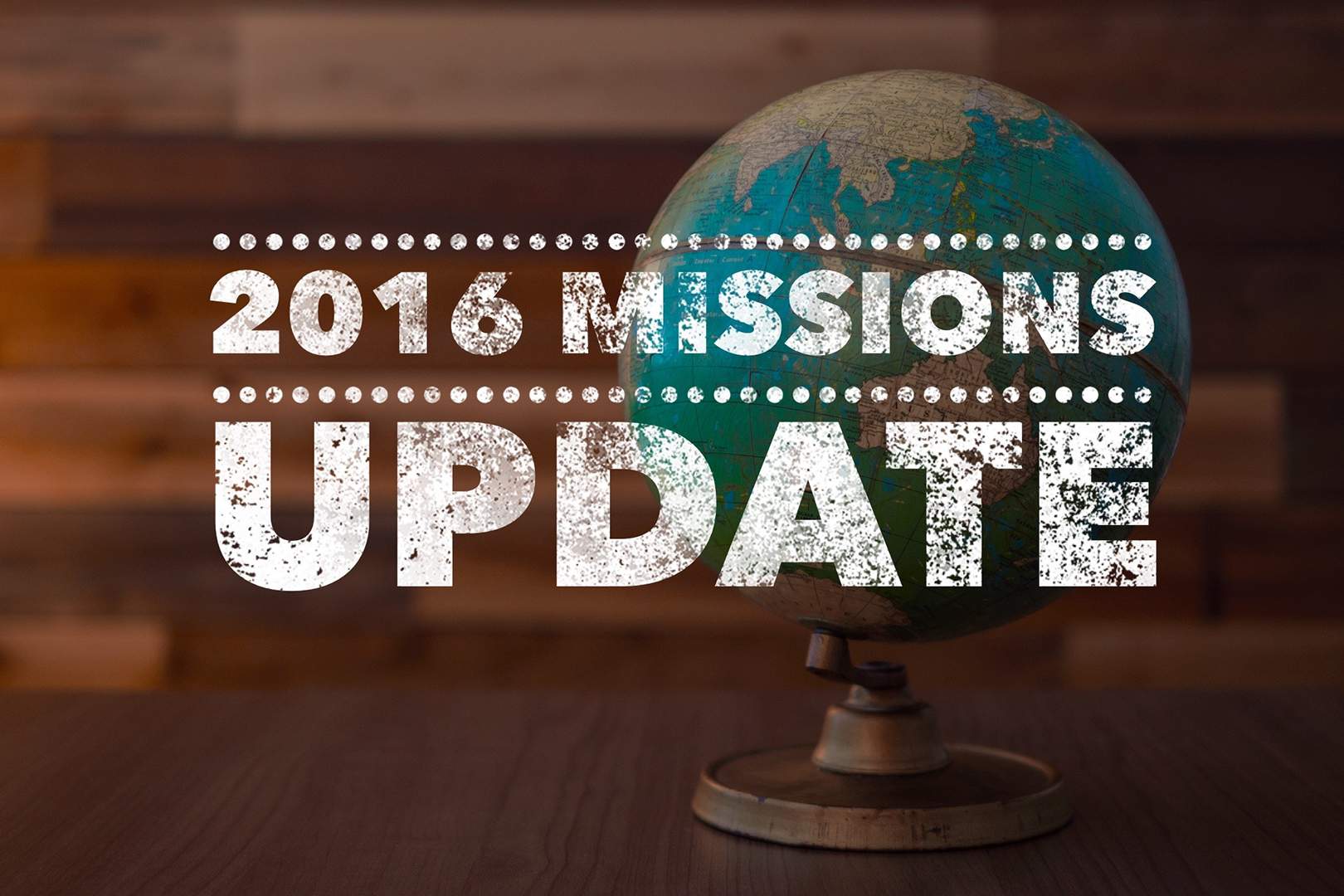 2016 Missions Update
Through the generosity of people at Redeemer Church, we were able to support missionaries and organizations that are making an impact in the lives of people beyond our local body of believers. We wanted to make you aware of these ministries so you could pray for them, and enjoy hearing about the work God is doing throughout the world.
Below are some of the local and international missionaries and ministries we supported in 2016.
Local Missions
Some of you at Redeemer Church may know Roxanne Berheim. She volunteers with Redeemer Kids and with the Redeemer Student Ministry.  What some of you may not know about Roxanne, is that she works with Youth Missions International.  Roxanne helps train young Christian leaders who love to share Jesus through authentic ministry. They do this through missions and sports ministry here in the states, and also overseas.
Since the inception of Redeemer Church, we have supported Jon and Molly Engel.  The Engels work with Cru at Montana State University, discipling college students and developing future leaders for church and the mission field. The typical college-age person is right in the middle of making decisions which will impact them for the rest of their lives. What a great opportunity for sharing the gospel of Jesus with them!
For years, Andrew Schneidler was one of Washington State's most prominent private adoption attorneys.  Several years ago, God called him to quit his very comfortable, profitable day job and start a non-profit called The Permanence Project.  TPP is completely supported through generous donations, and exists solely to help more kids find permanence.  There are countless kids in the system who are legally free and have a family who wants to adopt them, but the only thing that stands in the way is legal fees.  WPP provides much needed services for no-cost or reduced cost.  Andrew is an incredibly high-influence person in the local adoption and orphan care community, and he works actively to make adoptions happen all over the state.
International Missions
In April of 2016, Redeemer Church was able to send a mission team to Manila in the Philippines. During this visit, we were able to see first-hand the work that Kyle and Carina Long are doing with the JAZ Home.  In December and January, we donated over 50 bedsheets for the close to 40 girls they provide housing for.   They have been rescuing these girls from neglect, abuse, and sex trafficking. Carina's family attends Redeemer, and we are glad to support those in our extended family.  Kyle and Carina plan on visiting Redeemer Church on the last Sunday of February, to share with us some of the amazing things God is doing in the Philippines.
***The names of the families below are withheld because they are serving in regions which are not open to Christian missions.
The L Family has been in the mission field for almost 40 years.  They work with leaders by training and equipping them for mission work in Northeast Asia.  This great ministry work allows locals to be raised up and minister to their own culture in a way no westerner could. They have been doing this great work in Northeast Asia for almost 30 years. Amazing!
The S Family are native Turks living in the Middle East.  They were saved years ago through Campus Crusade for Christ's international missions effort, and since then, have been living as full time missionaries in Turkey. It is an incredibly hostile environment for any Christian missionary, and is especially so for native Turks.  The S family engages the people of Turkey through a wide variety of means, the primary one being via a Christian soccer league.  They are also on the cusp of planting a new underground church.
We hope it encourages you to see Redeemer Church joining with others; pursuing Jesus' words in the books of Acts
"But you will receive power when the Holy Spirit has come upon you, and you will be my witnesses in Jerusalem and in all Judea and Samaria, and to the end of the earth." (Acts 1:8)
We hope to share more about some of the amazing work God is doing through these missionaries and ministries in the months ahead. Thank you Redeemer Church for supporting the work of Christ locally and throughout the world!