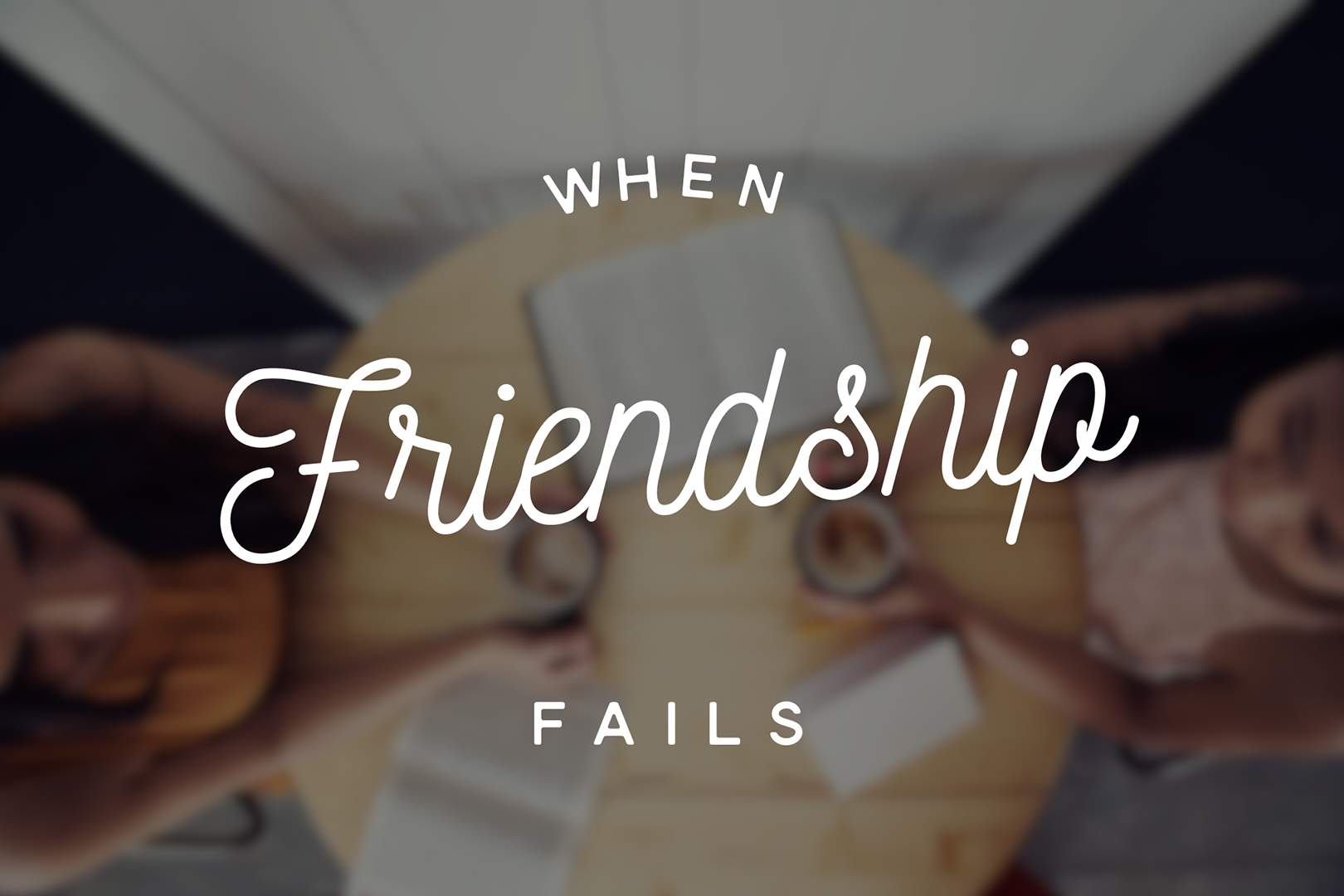 When Friendship Fails
Being a good friend isn't easy. Friendships thrive when fostered in the presence of intentionality, devotion, and sacrifice. However, these things don't come easily. Furthermore, there are countless situations that compound the difficulty of cultivating meaningful relationships.
Perhaps you've just welcomed a new baby into your family, and the sleep deprivation makes it hard to remember what day of the week it is, let alone to return a text from a friend. Or maybe work is especially stressful, to the point where the only thing you want to interact with at the end of a long day is your television. Or it might be that you're grieving—you've lost a person you loved dearly, a relationship, a job—and in your pain and heartache you've retreated from everyone around you.
These are only three examples from an endless list of the reasons that make it hard to connect with each other.  Add to those reasons the fact that we live in the age of social media which results in an ever-increasing number of connections made with others. You quite possibly have hundreds of "friends" on Facebook, and a sizable following on Instagram, but it's simply impossible to experience true friendship with that many people.
If this article resonates with you thus far, it is likely for one of two reasons. One, you have been, or are currently, in a place where you feel like you've fallen short as a friend (I would argue that we all will find ourselves here at some point in our life if we haven't already). Or, you are on the other side and have been let down by someone you consider a friend. The wonderful thing is that the Bible offers hope for both.
Colossians 3:12-14 reads:
"Put on then, as God's chosen ones, holy and beloved, compassionate hearts, kindness, humility, meekness, and patience, bearing with one another and, if one has a complaint against another, forgiving each other; as the Lord has forgiven you, so you also must forgive. And above all these put on love, which binds everything together in perfect harmony."
If you are feeling let down by a friend, consider this verse. What Christ calls us to in our relationships with one another is not easy, but it flows out of an understanding of the gospel and what He has done for us. Forgive as you have been forgiven, and clothe yourself in compassion, kindness, meekness, and patience as you contemplate your friendship. Then when you speak to your friend about your hurt, it will be from a place of love.
If you are the friend feeling the weight of falling short, this verse is for you also. Clothe yourself in meekness and seek forgiveness if you feel convicted. When you find yourself offering an explanation for your distance, pray for the compassion to understand what it might feel like to your friend on the other side. Be willing to hear how the distance has impacted your friend, and listen for opportunities to grow and learn. Seek harmony with your friend in as much as it is up to you.
Furthermore, it's important to remember that all of our friendships,—except one—are with another sinner. As a sinner in friendship with another sinner, it's impossible not to experience or cause hurt. However, as a Christian you have a perfect friend in Christ. Just as it can be hard for us to understand our perfect Father God because of the ways in which our earthly fathers fall short, it can be hard for us to wrap our minds around the idea of a perfect friend.  But Jesus is perfect, and He calls us His friend. in John 15:15 He says "I have called you friends, for all that I have heard from my Father I have made known to you."
Jesus can not, and will not let you down. He knows you perfectly, He loves you perfectly, and He intercedes for you out of His great love. Joseph M. Scriven's hymn, "What a Friend We Have in Jesus," describes this friendship beautifully:
"Can we find a friend so faithful
Who will all our sorrows share?…
Are we weak and heavy-laden
Cumbered with the load of care?
Precious Savior, still our refuge
Take it to the Lord in Prayer."
You will never be a perfect friend, and your earthly friends will inevitably let you down, but you will always have a perfect friend in Jesus.