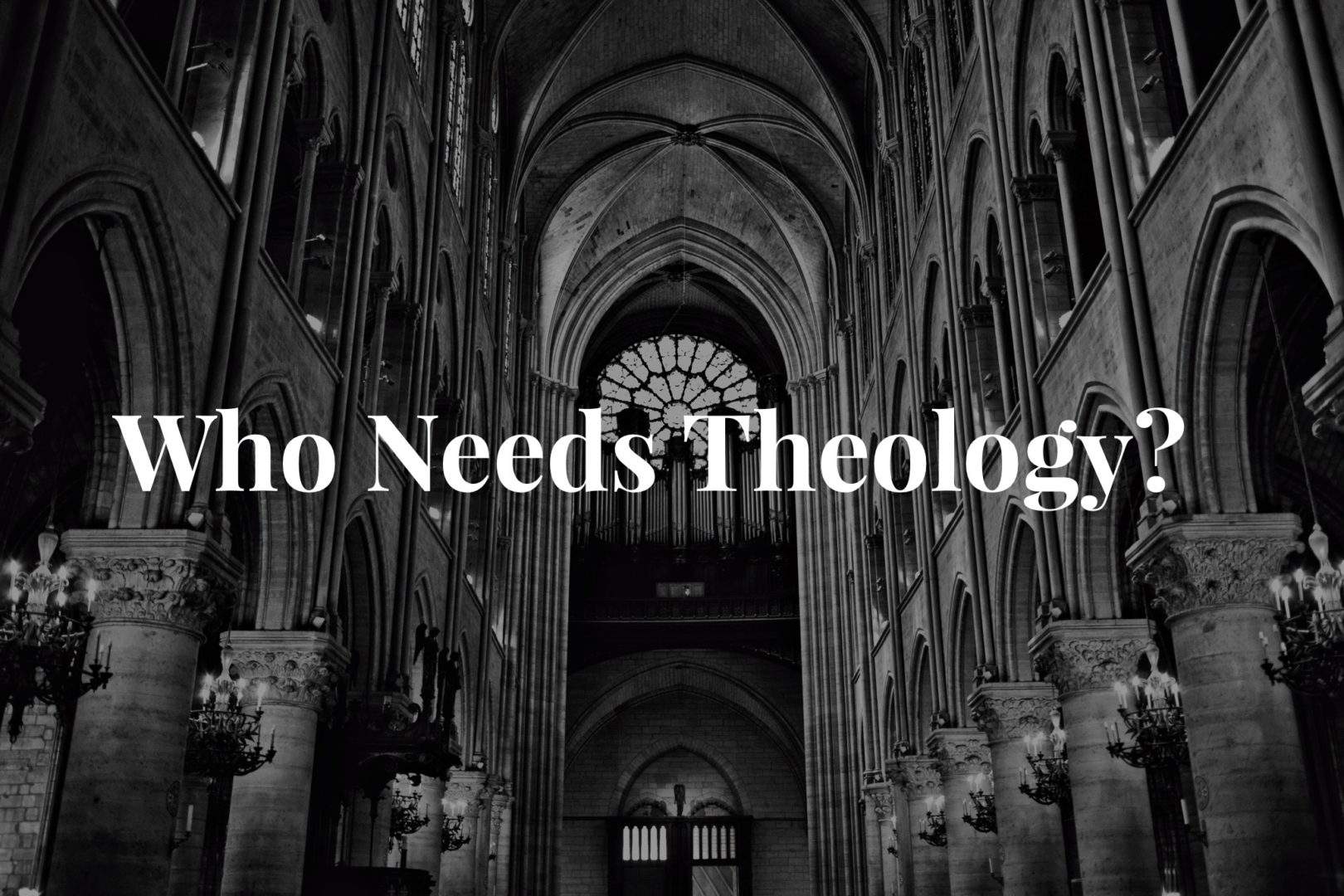 Who Needs Theology?
Recently, I was studying at my favorite coffee shop, when a man glanced over and noticed the stack of theology books occupying my table. He said, "what are you reading?" I handed him two of the systematic theology books I was reading, and he said "isn't it amazing that we believe we need to study theology when God makes it clear we will never be able to understand Him?" To further his point, he quoted Isaiah 55:8-9
 For my thoughts are not your thoughts

neither are your ways my ways, declares the LORD.

For as the heavens are higher than the earth,

so are my ways higher than your ways

and my thoughts than your thoughts. (ESV)
Then he pulled his Bible out of his backpack and said "we need this [the Bible] and the Holy Spirit. We should stop wasting our time with so much theology."
I have every reason to believe this man was a well-intentioned Christian. During our conversation he told me he was an intern at a local church, that he desired to be a pastor, and after we were done talking, he began reading his well-worn Bible for quite some time. So, was he right? Is studying theology a fool's errand?
 Faith Seeking Understanding
 In one sense, the aspiring pastor was correct. Some Christians do enjoy the study of theology more than they enjoy the object of theology. It is possible to have a robust understanding of historical, biblical, and systematic theology, and yet have very little regard for Jesus. The study of theology does not mutually exclude a hard or unbelieving heart.
However, in another sense, I could not more emphatically disagree with his assertion! The very Bible he was quoting was translated into English by faithful theologians, and God has certainly used the gifts and careful work of theologians throughout history to defend the church from a multitude of heresies and threats, both inside and outside of the church.
This low view of theology is not as uncommon as you may think. A study was published in Christianity Today where they asked people to rate the qualifications seen as most important for being a good pastor. "Theological knowledge" was ranked last among all qualifications listed. When the importance of theological knowledge in the pastorate is belittled, it is fair to wonder how serious the average church attendee takes their own study of theology.
Perhaps before we can accurately assess the importance of theology we need to better understand the meaning of the word "theology." The word "theology" comes from two Greek words which combined mean "the study of God." When Christians talk about studying theology, we are talking about studying distinctly Christian theology as revealed in the Word of God.
Anselm, an eleventh century theologian and archbishop of Canterbury, described Christian theology this way, "faith seeking understanding." For him, theology is an active love for God seeking a deeper knowledge of God. Given this definition, it should sound strange to hear a Christian disregard theology as unimportant and even hazardous to the Christian life! Christian theology is to be distinctly God-centered, and thus should never be set in conflict with God's word. Christian theology flows out of scripture.
 Everyone is a Theologian
Dr. R.C. Sproul, a noted Christian teacher and author wrote a book called Everyone's a Theologian. In arguing for the value of theology, Dr. Sproul makes this point:
Theology is unavoidable for every Christian. It is our attempt to understand the truth that God has revealed to us —something every Christian does. So it is not a question of whether we are going to engage in theology; it is a question of whether our theology is sound or unsound.
The choice for Christians is not whether or not we will be theologians, but rather, will we be biblically faithful theologians? Studying theology does not inherently mean you believe God is able to be fully grasped by human reason and understanding. In fact, it is a robust understanding of the theology of God's incommunicable attributes—his infiniteness, holiness, sovereignty, omnipotence, etc. which should cause us as Christians to marvel in worship at our God. Then may we exclaim like David:
One generation shall commend your works to another,

and shall declare your mighty acts.

On the glorious splendor of your majesty,

and on your wondrous works, I will meditate.

They shall speak of the might of your awesome deeds,

and I will declare your greatness.  Psalm 145:4-6 (ESV)
Good theology leads to good worship, and good worship is glorifying to God! If this is correct, then the answer to the question "who needs theology?" should be an emphatic "all of us!"