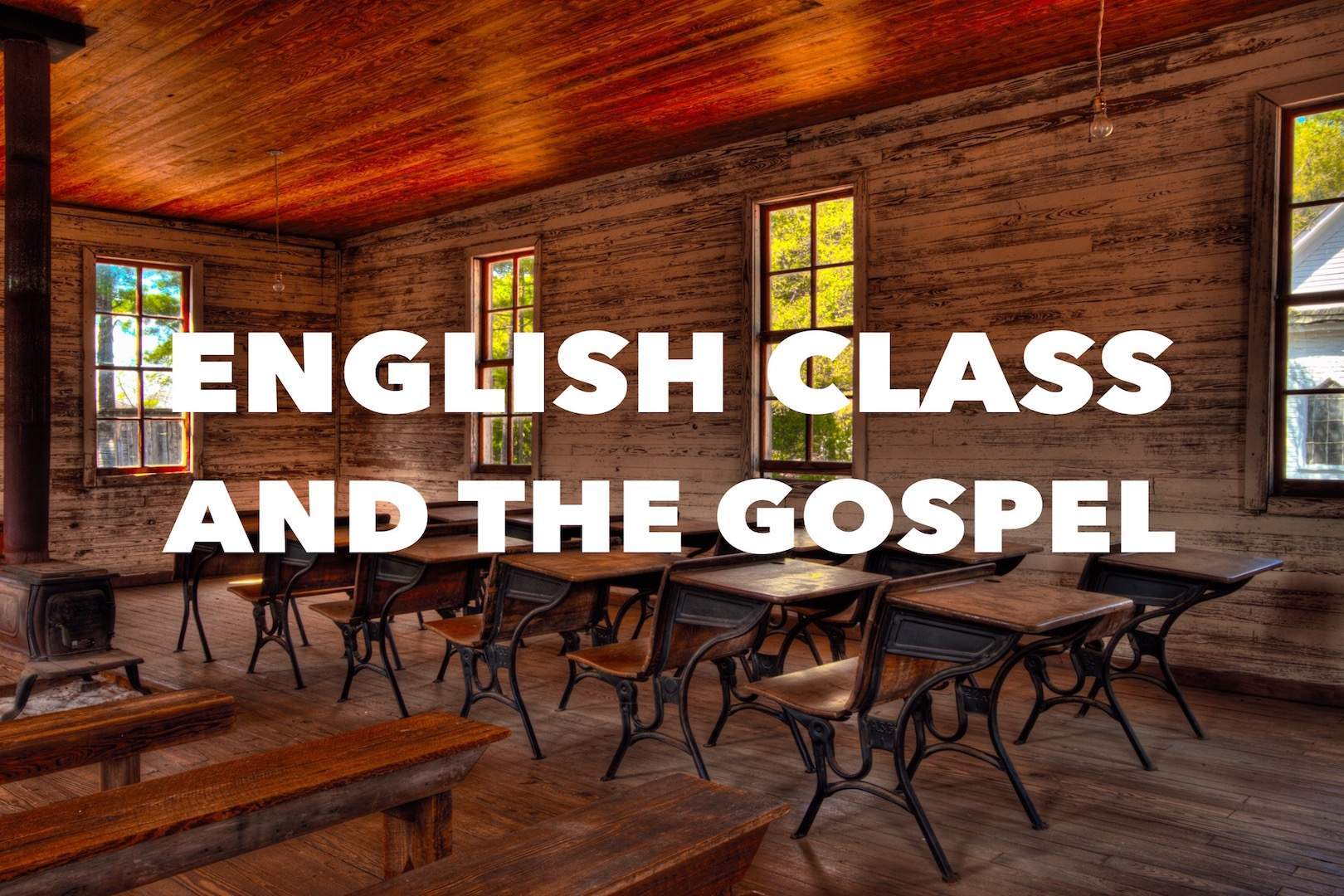 English Class and the Gospel
I was saved after my 9th grade English class. Truth be told, it was quite a bit later. However, looking back now, there were glimpses of the Gospel even back in Mrs. Taylor's freshman English Class. This class is where I first heard about indicatives and imperatives.  Back then I couldn't tell you the first thing about either.  I could however tell you how to create the perfect spitball.  Ask my buddy Farley when one of my spitballs flew effortlessly from the front row and nailed him in the back row.  It stuck onto the lens of his glasses gloriously!  An impossible shot, a one-in-a-million shot with a masterful result; of course my buddy Farley doesn't share this sentiment.  However, I digress…
Indicatives and imperatives have come to shape my walk with Jesus in a profound way.  Seeing the Gospel through the lens of indicatives and imperatives was like a spiritual mic drop from Jesus.  But I get ahead of myself; first we need to define indicatives and imperatives.
By way of definition, an indicative is a statement of fact, and an imperative expresses a command or exhortation. Therefore, Biblical indicatives are statements of fact about who you are in Christ because of what Christ has done, and Biblical imperatives are the commands that we are to obey because of who we have been declared in Christ.
Do you remember the popular trend of WWJD bracelets that were all the rage back in the 90's (kids ask your parents)? It was back during a time when phrases like "all the rage" were acceptable, and cool.  The "WWJD" bracelets were uber important because many of us had just finished reading the "Left Behind" series, and we were fearful that if we didn't act like Jesus, we were simply going to be left behind.  This is the same time period where the primary choice for Christian music was either Michael W. Smith or D.C. Talk.  Sorry, I digress again…
The problem with mottos such as "What Would Jesus Do," and the thinking that many of us tend to default to with or without a bracelet, concerns the fact that we are focusing on behavioral change; on our performance.  We are taking the focus off of what Christ has accomplished on the cross, and putting the spotlight on ourselves.  But that is not how Paul and the other NT writers motivated the church.  They did express what we should do (the imperatives), but it was always in light of, and firmly entrenched, in what God had already done (the indicatives).
We need to remember that the gospel grounds all of its moral demands (imperatives) in gospel realities (indicatives).  It always brings us back to the work of Christ on the cross!  By grounding the imperatives within the indicatives we are declaring the gospel to be good news and not simply good advice.  Let's go to scripture to see how this plays out.
"If then you have been raised with Christ, seek the things that are above, where Christ is; seated at the right hand of God.  Set your mind on things that are above, not on things that are on earth."  (Col. 3:1-2)
Indicative?  You have been raised with Christ
Imperative?  Set your minds on things that are above, not on things that are on earth.
How do you describe this relationship?  Because you have been raised with Christ, and you are united in his death and resurrection, you should set your minds on heavenly things, not on things on earth which fade and provide temporary satisfaction.
This was the problem with the "WWJD" bracelet, and all thinking which distills the Christian life down to a set of moral behaviors—it tends to focus our attention on what we should do (imperatives) without reminding us of who we already are (indicatives) because of Christ's work on our behalf. When we lose gospel indicatives, we tend to gravitate toward shame when we fail, or pride when we succeed.
I think a better and more Biblical alternative to the WWJD trend would have been "What Has Jesus Done" (patent pending). Remembering and returning to the love of Jesus on the cross, spurs us on to love Him, and to love others. Instead of feeling defeated when we do not live up to the standard of what Jesus would do, we rest in what Our Savior has done on our behalf. So, instead of wasting your time in English class working on the perfect spit ball, please pay attention to indicatives and imperatives. Unlike spit balls, this promises to serve you well into your future.